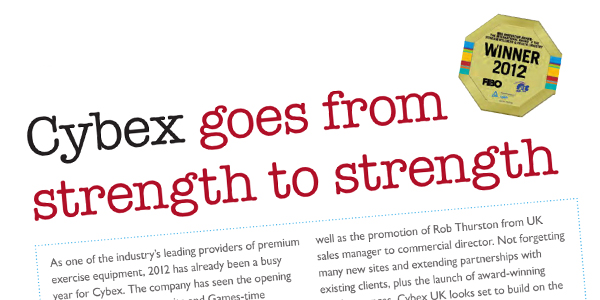 Building on what has been a busy 2012 so far for CYBEX, Leisure Industry Week provided the perfect opportunity to highlight some of the company's recent successes and equipment installs in an article featured exclusively in the event's show guide, plus September editions of Health Club Management and Leisure Management.
Following the announcement in February 2012 that reported strong financial results for the company in 2011, CYBEX has continued to enjoy a successful year to date with the launch of new UK showcase site SportHouse and the opening of a number of new sites via CYBEX's longstanding relationship with Nuffield Health, including Lloyds Banking Group, Network Rail HQ, Invesco Perpetual and the Club at Baltimore, London's largest residential gym facility.
The launch of new product lines including the 625 and 770 cardio series', plus the new E3 view entertainment console has also further cemented CYBEX's position as one of the industry's leading fitness equipment manufacturers.
Please click here and turn to page 92 for the article, 'CYBEX goes from strength to strength'.
As one of only a few suppliers to manufacture a comprehensive range of fitness equipment accredited by the Inclusive Fitness Initiative, CYBEX was recently asked to contribute to a feature discussing the future of disability fitness provision, as part of September's edition of Health Club Management.
"There's a need to address the misconceptions of what 'inclusive fitness' encompasses," commented Rob Thurston, CYBEX UK's commercial director.
"It's not just about disability – inclusive fitness applies to other markets that the fitness industry targets, including the ageing population and obesity and ill health in both adults and children."
Energise leisure centre, a CYBEX site ran by the City of York council the UK's first facility to be awarded the Inclusive Fitness Mark, has undergone recent renovations to almost double the size of its gym due to an increase in member demand.
Please click here and turn to page 65 for the article, 'An inclusive future'.
CYBEX has also received recent coverage in Leisure Opportunities and online across the Leisure Media network, announcing the opening of new premium budget gym Metro Fitness plus installs with Nuffield Health in Network Rail and Lloyds Banking Group's headquarters.