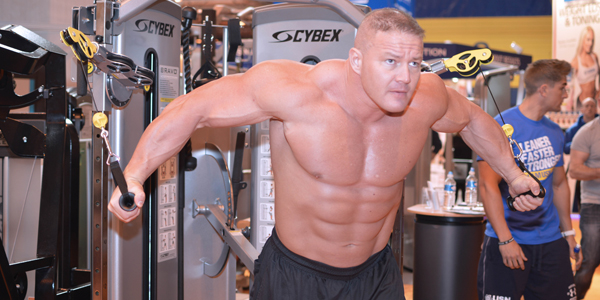 Following a successful debut at last year's event, The CYBEX UK team returned to BodyPower Expo on 17 – 19 May for a busy three days exhibiting at the UK's largest fitness, sport and nutrition expo.
The extended CYBEX stand was positioned front and centre to the main entrance of the event and showcased many of the latest strength and cardio equipment pieces on offer, including the 770 cardio range with E3 view entertainment solution, 625 cardio series, VR1, VR3 and Eagle selectorised strength lines, the Big Iron lifting platform and Bravo Functional Trainer.
USN-sponsored athletes Emma Storey-Gordon and two-times winner of Mr Universe Dave Titterton visited the CYBEX stand to showcase the equipment, whilst the show also hosted the first UK demonstrations of the Bravo Energy Burn Series. For more information on the programme, click here.
Footage of the Bravo Energy Burn Series demos can also be viewed on CYBEX UK's YouTube channel by clicking here.
With a record number of tickets sold including a sell-out for Saturday, BodyPower 2013 attracted more than 53,000 attendees throughout the three days; an increase of over 70% on last year, as CYBEX UK's commercial director Rob Thurston comments: "The significant increase in attendance at this year's BodyPower proves the great levels of enthusiasm and interest in health and fitness in the UK and it is a fantastic show for us to be a part of; so much so that our stand space is already confirmed for 2014.
"Not only is it beneficial from a new business perspective, BodyPower also provides us with a great chance to meet with existing and prospective clients and the feedback from those that visited the stand has been very positive."
Tickets to attend the Industry & Preview Day were made available to CYBEX clients free of charge.
To view more photos from CYBEX at BodyPower, visit the CYBEX Facebook page.