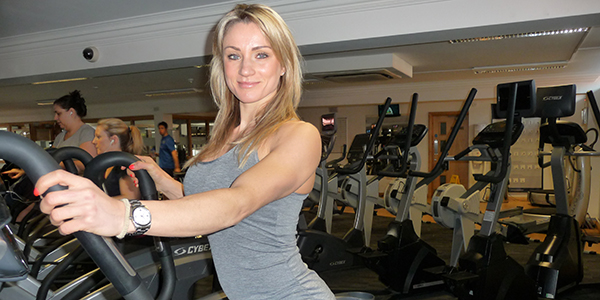 Meet Nina Ross, International Federation of Bodybuilding and Fitness (IFBB) bikini athlete and UK Bodybuilding and Fitness Federation (UKBFF) 2013 bikini champion.
In January, Nina took delivery of her very own Arc Trainer which she now uses daily as part of her training programme. Nina is currently training to compete at the Arnold Classic in March, one of the premier events in the professional bodybuilding competition calendar. For more information visit www.arnoldsportsfestival.com.
In this month's post, Nina shares her fitness and nutrition programme and explains why she's the Arc's latest number one fan…
The Arnold Classic 2014 is taking place on 1st March in Ohio and in preparation for this, I am currently training every day with no rest days. To do this, my training sessions last no longer than 60 minutes, 15 minutes of which are spent warming up.
As I have quite a lean upper body, my focus tends to be on my lower body; this is key for the category that I compete in, 'Bikini Fitness', where glute-ham tie in is an area I have to focus on.
I spend a lot of time working with heavy weights in order to achieve this and to compliment this, the Arc Trainer has without doubt been my training saviour! I use it every day for a minimum of 30 minutes of either Low Intensity Steady State (LISS) or one of the Arc's high intensity programmes.
I vary the incline depending on which part of the body I want to focus on, making it a much more efficient use of time when training. Unlike other ellipticals, the calves and feet don't suffer pain or numbness and it's fantastic on the joints as a result of its no impact Arc motion.
Diet is obviously very important in preparation for the competition and is something I vary. I believe that fat loss is simply based on energy balance, therefore what you're eating must be a shortfall of what you are using.
It's important that your diet doesn't affect your health so I ensure that my supplement and de-stress programme both work in synergy with my training. Long sustained dieting can have a negative impact on hormone levels and metabolism, therefore I switch my eating plans between high days (40-30-30 split between carbohydrates, protein and fats) and cut days (20-60-20 split between carbohydrates, protein and fats).
Nina's next update will follow in the week building up to the Arnold Classic.