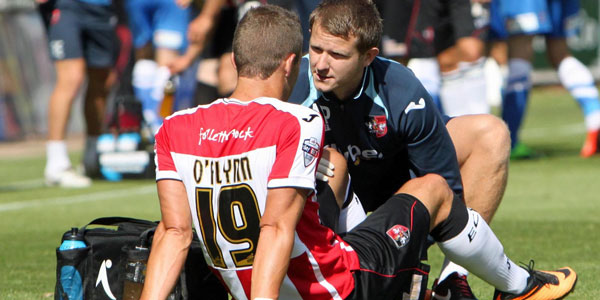 Cybex visited Football League Two side Exeter City FC in April to deliver a bespoke training seminar for the club's sports medicine team.
Led by Cybex master trainer Chris Rock, the interactive workshop was entitled 'What is optimal training?' and concentrated on functional training methods and sport-specific conditioning focused on the club's athletes.
More than 25 members of the club's sports medicine team were in attendance, including physiotherapists, strength and conditioning coaches and sports scientists working within the first team, academy and youth set ups.
A number of students from nearby University of Exeter also participated, who are currently enrolled in internships with the club.
The two hour workshop identified key areas of football-specific conditioning, determining how attendees currently train their athletes and how fitness equipment can be incorporated into programmes based on the athlete's unique objectives.
The aim of the session was to also provide attendees with an improved understanding of biomechanics, an increased knowledge of different training disciplines and a wider insight into current fitness trends.
The seminar was set up by Andy Proctor, head of physiotherapy for Exeter City FC. Before joining the League Two side, Andy worked as health and fitness advisor at the University of Bristol, home to over 75 pieces of Cybex cardio and strength equipment.
"My role then - as it is now - was very much focused around rehabilitation, so from my point of view, it was essential that my clients had access to fitness equipment that would not only support their rehab, but also progress their return to full fitness safely," explains Andy.
"Cybex equipment is undoubtedly some of the best I've used and worked with; as a physiotherapist it is refreshing to see the focus on human biomechanics and extensive research that goes into its design and this is underpinned by the training and education that the company provides, which I was keen to share with my colleagues at Exeter," confirms Andy.