An interactive software solution, exclusive to Cybex, providing gym members with exercise demonstrations, training programmes and much more…
New and exclusive to Cybex, Budd-e is a world leading interactive software-based solution, designed to improve member retention and acquisition, support staff, enhance customer service, generate income and save on costs.
It is a one-stop resource comprising all of the information that your members need, including
Exercise demonstration videos

Training programmes

Health and nutrition advice

Health and fitness calculator

Personal Trainer profiles
Exclusive and bespoke to Cybex, Budd-e includes workout programmes and demonstration videos for every piece of Cybex equipment. Budd-e also covers the use of functional equipment from Jordan Fitness and Concept2 rowers; Cybex's preferred suppliers.
The customisable unit comprises a 22" HD touchscreen, designed to be positioned anywhere on the gym floor. Users can access a wealth of information within a couple of touches of the screen, most of which can be QR scanned or emailed onto personal smartphones or
tablets. This feature allows members to read and share fitness information in their own time, encouraging them to stay focussed and motivated towards achieving their goals.
Click here to view the Budd-e brochure
Two of Cybex's clients, Duston Sports Centre (Trilogy Leisure) and Metro Fitness, recently underwent trials with Budd-e. The system was installed for 100 days at both gyms from which a detailed report was then produced, showcasing the effectiveness of the system.
Key findings included:
Almost 9,000 pages were viewed throughout the trials; exercise demos, body part-related searches and the health & fitness calculator were the top three most popular features at both gyms

More than 1,500 requests were logged for demonstration videos, helping members to use equipment that they might not have used previously

602 views of Interactive PT Profiles pages were logged in just four weeks, leading to an increase in interaction between members and gym staff and new business for PTs

The Member Feedback section proved popular, providing management staff with valuable information from members that otherwise may not have been shared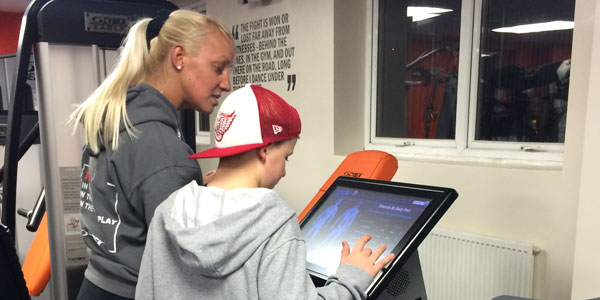 "We loved having Budd-e in our gym. Our staff and members took to it immediately", commented Stella Barker, health and fitness development officer at Northampton Leisure Trust.
"It gave our duty managers great piece of mind, knowing that any members with fitness-related questions could always ask Budd-e for help. This was particularly valuable during busy periods when staff might not be on hand to immediately assist."
Scott Page, general manager at Metro Fitness comments: "Budd-e encouraged members to use equipment that they might ordinarily shy away from. The body part exercise searches proved popular, with members proactively searching for new exercises to vary their routines.
"Budd-e also proved to be a big hit with our PTs. It helped them win some of the clients that they are still training tod
Rob Thurston, Cybex UK's commercial director, explains the value in gyms offering the Budd-e system to their members: "Budd-e is a world-first and completely unique to Cybex. It is another means by which we can provide support to our clients through the use of innovative new technologies.
"The trials so far prove both its effectiveness and usefulness in a gym environment, acting as a support tool for members of all training abilities and interests. It's user-friendly, up-to-date and fully customisable to each site. It's a great addition to our portfolio and we are looking forward to introducing it to more of our gyms."
Come and see Budd-e for yourself at Cybex UK's new fitness centre at the HQ in Coalville, Leicestershire.
For more information on Budd-e, visit www.budd-e-intl.com or to find out about getting Budd-e installed at your gym, please e-mail uksales@cybexintl.com or phone +44 (0) 845 606 0228.