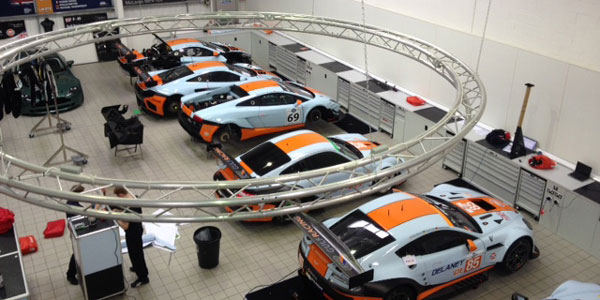 Cybex has recently installed a range of cardio and strength training equipment at the headquarters of the Gulf Racing team in Milton Keynes.
The onsite gym was a new addition to the UK base, which is home to endurance team Gulf Racing and Position One Motorsports, who are responsible for all aspects of the drivers' development including training and physical conditioning.
"As an endurance racing team, our drivers are competing in races that can last for four or more hours, so it is imperative that both their mental and physical fitness levels are at their peak to maintain optimum performance throughout," explains Matt Beers, Gulf Racing's team manager and chief engineer.
"We are focused on creating a holistic approach to driver development and over recent years, we have witnessed physical conditioning becoming increasingly important to a driver's performance and success throughout the season; therefore, we felt it would be of significant benefit to the team to have a gym onsite."
In order to determine which fitness equipment would be most suitable for the drivers' training programmes, Gulf Racing employed a consultant specialising in the field of motorsport athlete development to support and advise on the project.
"Cardiovascular fitness is a key priority for our drivers so it was important that we delivered to this requirement, but we also had to explore strength training options whilst accounting for the limited space available in the gym," explains Matt.
Consequently, Cybex installed a 770T treadmill, 770C and 625C upright bikes, Bravo Functional Trainer and dumbbells supplied by Jordan Fitness.
"Cybex came recommended to us by our consultant, not only for the cost effectiveness of its equipment but also for its quality and durability.
"The Bravo Functional Trainer, in particular, is a fantastic piece of equipment that is already proving very popular; it provides our drivers with endless training options targeting strength, agility and stability, whilst also working within the confines of the space available," confirms Matt.
Alongside the team's six drivers, the race support team are also enjoying the new facility: "For some of our guys, their jobs can be very physical – particularly those trackside who are involved in pit stops, tyre changes and so on – so it's great to see the gym benefiting the team as a whole", adds Matt.
Commenting on the gym, Tony Vaughan, Cybex UK regional sales manager, said: "This was a fantastic project to be a part of and it is clear from working with the team that Gulf Racing wants to be able to offer both its drivers and coaches the best onsite facilities; the new gym certainly underpins this and it's great to see the equipment already receiving such positive feedback."
For more information on Gulf Racing and Position One Motorsport, visit www.gulfracing.com and www.position-one.co.uk