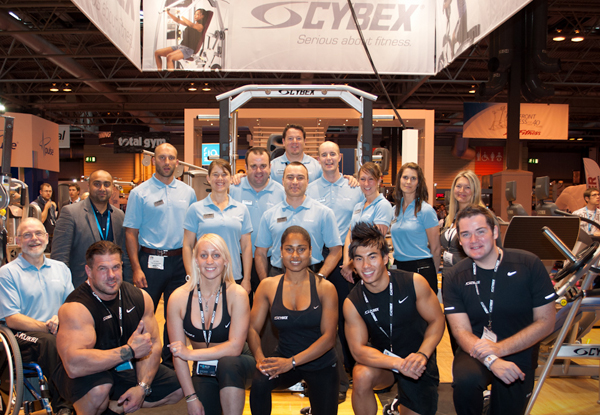 In culmination to months of planning and preparation, the CYBEX team descended on the NEC last month for what was a very busy three days at Leisure Industry Week.
As the largest UK trade show in the CYBEX events calendar, the CYBEX stand was positioned front and centre to the entrance of the show, providing the perfect platform for CYBEX to launch new products to the UK market, announce an exciting new contract significant to sporting events in 2012 and demonstrate a comprehensive range of premium cardiovascular and strength training equipment to the thousands of fitness industry professionals that attended throughout the three days.
As part of CYBEX's Bravo functional training series, the new Bravo Press, Pull and Lift series was launched to the UK market at LIW, and was used as part of a packed schedule of equipment demonstrations hosted by international training director Ben Wilde and CYBEX UK master trainer Julia Dalgleish.
CYBEX ran eight demonstrations each day, focusing on the Big Iron, the Bravo series and the innovative Arc Trainer. The comprehensive demo schedule was a new addition to CYBEX's presence at Leisure Industry Week, and was something that Ben Wilde, international training director, stated worked really well; "We always focus on showcasing what it is that makes CYBEX products so unique, so the demos that we ran each day allowed us to explain both the theory and the practical reasoning behind this."
CYBEX also used LIW to officially announce that it has been named the exclusive equipment supplier for SportHouse, a leading fitness training facility and a Games Time Training Venue for athletes participating in events next summer. This announcement also featured in Health Club Management and Leisure Management, as well as the LIW 2011 show guide, which all featured an article on the project.
After what proved to be a busy three days for the CYBEX UK sales team, Rob Thurston, national sales manager was really pleased with how the show went; "Leisure Industry Week is always a key part of the year for CYBEX and the team and I have worked really hard to make sure we that we maximise our presence at the show.
"We have had some great conversations with existing clients, engaged with a long list of potential customers and have used the event to secure a number of new agreements."
If you missed CYBEX at LIW, click here to find out what happened and click here to view the Arc Trainer demonstration with CYBEX UK master trainer Julia Dalgleish.
To find out more about CYBEX's comprehensive range of cardiovascular and strength training equipment, please visit the CYBEX website www.cybexintl.com.
To read about CYBEX's exclusive deal with leading fitness facility SportHouse, please
click here.