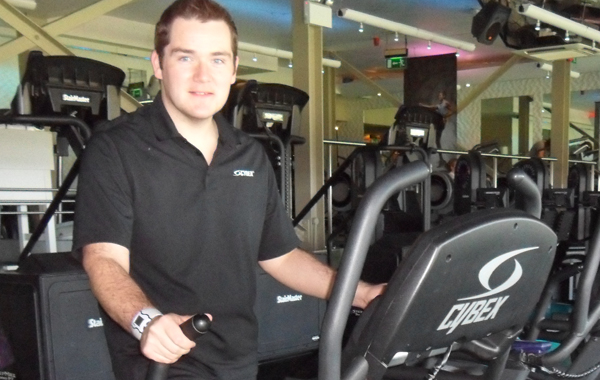 It's been one heck of a month! I have moved house, started a new job and also started my exams in college…more about them later!
Last month I said that I would be outlining my goals for the next 12 months or so. Well, the timing couldn't have been any better as in college I had to do a full fitness assessment as part of my personal training course. This has indicated to me where I am now in terms of my fitness levels and abilities, and therefore where I would like to be in 12 months. It's also shown how far I have come since this time last year - when we started filming the Biggest Loser.
One of the biggest shock results from my fitness test was my push up test. I had to see how many could I do - sounds simple, yet in the Biggest Loser house it took me three attempts before I could even complete one push up in a half decent manner. This month however I managed to do 55 - I actually got a tad emotional as it was one of the first times in a long time that I had a measurable result, other than just on the weighing scales or through trying on my clothes that are now too big for me!
In addition, I also managed almost 60 sit ups in a minute (ouch!). My body fat percentage was at 23%, so this is one of my first goals for the next 12 months - I want to get my body fat to around 15% and maintain this. I know that my CYBEX Arc Trainer will be perfect for achieving this as it genuinely is one of the best fat blitzing machines I have used. I am focusing on a full body workout, however I do intend to also increase my muscle mass in my upper body. Some other goals I have set out include running a half marathon and also getting involved in helping to raise awareness about exercise and health within younger people; this is something that I have wanted to do for some time now.
I've found that as my fitness levels increase, I've been able to use the Arc in various different ways as part of my workout routine. I sometimes use the Arc as part of my warm up, where I work at a moderate intensity for 10 – 12 minutes. I also often work on a 30 minute programme, where I focus on either a calorie count target, a time target, or a strides target – perfect for motivating me to beat whatever I achieve next time!
The course I have been studying in college is EQF / REPS Level 4. It has been a very intense learning experience with a lot to take in. I have been really surprised at the amount of anatomy and physiology that there is to know, but rightly so - after all, I will be prescribing exercise for clients so it's vital to know how their body works to achieve the best results for them.
Having just completed four exams, I made sure I did at least one hour of exercise before the exams / study period where possible, in order to raise my endorphin levels and help in settling me into a positive, upbeat frame of mind.
This month I'll be in Abu Dhabi, a trip I won by finishing as runner up on the Biggest Loser. I'll also be attending Leisure Industry Week in Birmingham next week on 20 – 22 September with the CYBEX team, which is something I'm really looking forward to – it'll be great to meet with lots of likeminded fitness professionals.
Anyhow, I must be getting on with my revision! Until next month, remember, anything is possible.
Believe and you will achieve.
Paddy : )